First Charlie Hebdo issue since Paris attacks goes on sale in France
People queued before dawn at kiosks across France for the first edition of the weekly to go on sale since last week's attacks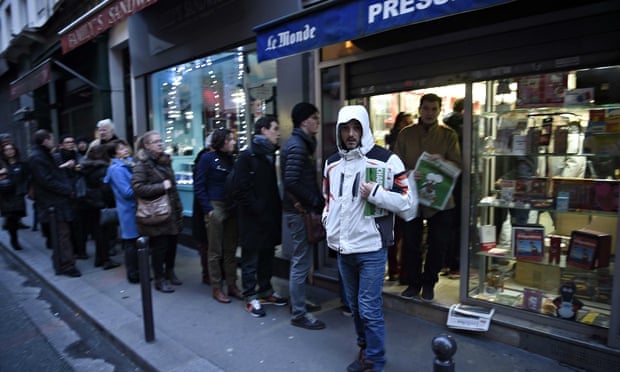 Large queues formed outside French magazine kiosks as the first edition of
Charlie Hebdo
went on sale since last week's terrorist attack on the magazine's office killed eight of its journalists.
Some outlets reported that hundreds of copies of the magazine were sold in the first few minutes of going on sale by customers eager to show support for free speech in the wake of the attack.
Despite a print run of up to 3 million copies, including versions in six different languages, many struggled to get hold of the first copies of a magazine that usually has a circulation of only 60,000.
The Guardian's Anne Penketh said her local newsagent in Paris was so inundated with customers wanting copies of Charlie Hebdo that he hid them and only sold copies to regulars.
She said: "While I was there, a couple of people stopped by and asked for a copy, but [the newsagent] said he didn't have any. He then stooped down and put my copy inside Le Figaro so nobody would see. He says he's never seen anything like it."
Long pre-dawn queues of people were seen at many magazine kiosk across Paris including at the Gare du Nord, where dozens of people formed were lining up before 6am.