Betty MacDonald's sister Alison Bard Burnett



Betty MacDonald's mother Sydney with grandchild Alison Beck





Betty and Don MacDonald in Hollywood









Betty MacDonald fan club fans,
i contribute a Betty MacDonald letter to Betty MacDonald fan club letter collection.

I own a very important letter of Betty MacDonald.
Betty MacDonald describes her bad experiences with jealousy.
Poor Betty had lots of them!

I'll share it on Betty MacDonald Newsletter November.
Having a bad childhood or not - you can't act like this - making others down whenever you can because of your jealousy.

These 'poor' people only think in black and white terms. They believe they are the only good and selfless ones - the others are always very selfish and only interested in earning money and using people.

How childish is a behaviour like this? In reality they feel isolated and very lonesome in their selfbuild prisons. They are afraid of others and live in their own world. They tell their fairy-tales over and over again all the time and at the end they believe in their own fake stories. You can feel sorry in a way for people like this but if they are slanderous towards others they should be sued. You can't tolerate people like this. They try to damage your reputation because of their mental disorder.
Which one is your favourite book by Betty MacDonald?
Let us know and tell us the reason why, please.
Deadline: November 30, 2016
You can win very new interesting Betty MacDonald fan club items.
Good luck!
Many greetings from Betty MacDonald fan club organizer Linde Lund.
We are very happy that Betty MacDonald fan club got so many fans in 40 countries.
At the current time I'm rather busy because my father got a very serious heart attack some time ago.
There is reason to be optimistic according to the doctors but we need lots of time and patience.
Therefore I'm really very grateful that author Heiderose Teynor is going to support us with activities on Facebook establishing a new site promoting her literary work ( which I adore ) Betty MacDonald fan club and Vita Magica.
Thanks a million dearest Heiderose and Thomas!
Congratulations!
We adore the new outstanding Facebook site.
You both did a great job!
Now let's introduce our good friend and author Heiderose Teynor!
My name is Heiderose Teynor. I live with my family in Neckarsteinach near Heidelberg.
I've studied history and politics at Heidelberg University and I was always interested in journalism and wrote my first articles during my study. Later I worked on short stories and started my writing career.
I adore criminal stories with meaning and understanding, when the reader has to reflect about it.
3. The kind of literature:
It is not very easy to write good stories, and a teacher said to me "You can do anything, just do not get bored!" I try to entertain my readers that they cannot stop. In holidays I visited Italy and the Tuscany. I love these old towns like San Gimignano, Siena or Pisa. Another aspect is my home region round Heidelberg. Visitors from all over the world visit this town, the castle and the river Neckar. So why is it so much interesting? I tried to research it.
My book "Im Bann der Omertà" is about my home region around Heidelberg and the Tuscany. It is a story about organized crime and the duty of silence.

The special feature

in "Im Bann der Omertà"

are the regional stories both around Heidelberg and in Tuscany.
4. My opinion to Betty MacDonald
Betty MacDonald's "The Egg and I" is very funny and amusing as Betty MacDonald wrote about her childhood and youth, and later about her experiences at the chicken farm. This is a wonderful gift to describe everyday life like she does it! Some other people would not even see it, but she was able to write a whole book in a very amusing and witty style.
I heard about Betty MacDonald and The Egg and I in Vita Magica from Wolfgang Hampel. Through facebook and net I met Linde Lund. It is very interesting to attend Vita Magica last Tuesday every month. The program is always very interesting with quiet different writers and musicians.
5. My appearence in Vita Magica
I will read together with other writers on 30th of May 2017, when Heidelberg is on program and with "Im Bann der Omertà" I will be guest reader on 28th of November 2017.
Heiderose Teynor
www.teynor-kje.de
A very warm welcome dearest Heiderose to Betty MacDonald fan club and thanks a million for your outstanding support!
Love,
Linde Lund
Do you have any caricatures of Betty MacDonald?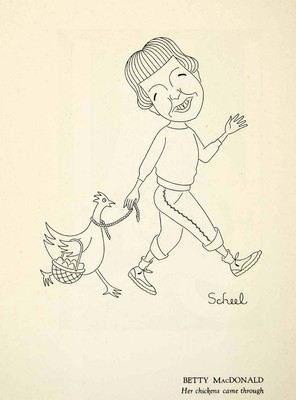 We are working on this subject ' Betty MacDonald in caricatures ' and are very grateful for your support.
Don't miss ' The Egg and Betty ' and ' The Kettles' Million Dollar Egg ' by Betty MacDonald fan club founder Wolfgang Hampel, please.
The updated versions with many new info, documents and photos are really fascinating.
I adore the brilliant letter by Betty MacDonald fan club honor member Monica Sone.
I share two reviews by Olivier Thill.
The Egg and Betty
---
Publisher: Betty MacDonald

fan club


Electronic file. 2002
Updated version with many new info

, documents and photos in 2016
---
Rating: ****
---
This is the study of the bestseller, The Egg and I, by Betty MacDonald, first printed in 1945. You can read many fascinating thoughts from readers of The Egg and I and the long and careful investigation undertaken by the founder of Betty MacDonald fan club.
Contents
A lesson in crosspurposes or Too much scrubbing takes the life right out of things
They were all quite drunk but still jovial or Birdie Hicks the second
My friend Betty or A letter from Kimi
A far cry from the Smith brothers and/or a real bastard?
Put out that match or Do you want me to start the greatest firework you've ever seen?
How long will the forests last? or Where is the spotted owl?
The type of female the pioneers were tickled pink to give the Indians as a hostage or I'm saving my old newspapers for you
The terrible nearness of the mountains or A hell of a place to live
Who is who? or Old McDonald' had a farm
The good guy in The Egg and I or A long search with the help of an ex-FBI man who had helped catch Dillinger
The Egg and I road or People on this road are pretty private
A smile from Chimacum or How beautiful is it to be human
Huge fans of Betty's or The "Kettles" were just trying to feather their own nests...
Photos
---
Wolfgang Hampel has made funny and enigmatic titles like Betty MacDonald did.
This first chapter is an informal discussion about two families, the Kettles and the Hicks, who where the closest neighbors of Betty.
A "Betty Expert" ventured the hypothesis that the name Hicks derives from the adjective "hick" meaning rural and uncouth.
Wolfgang Hampel unveils the truth which was not easy to guess and to find, and which is completely different.
The second chapter starts with a few words about the Kettles. The rest of the chapter is about the representation of the Indians in MacDonald's book.
Wolfgang Hampel has asked the opinion of readers, and publishes their very interesting reactions
The next chapter entitled "a letter from Kimi" is also about the Indians. It ends with a very imporant letter from Kimi who in reality was author Monica Sone, first Betty MacDonald fanc club honor member and a very good friend of Betty MacDonald and Wolfgang Hampel.
The next chapter is about Betty's first husband, Robert Eugene Heskett
Wolfgang Hampel reveals a very interesting lie of Betty, which is that before marrying Bob, she already lived in the country, not in town.
Knowing the real life of Bob makes you feel more pity for poor Betty. One might also wonder why she has been so eager to quit her home at an early age, accepting to fly away with an old alcoholic as a result.
In the next chapter the truth is told about the fate of the farm after Betty and Bob left it.
In the rest of the book, you'll discover many other interesting things.
I won't go into details here (although I have carefully read every line till the end), because the purpose of a review is only to give an idea of the content of a book.
Wolfgang Hampel has done a wonderful work of research.
Now, every reader of Betty MacDonald's The Egg and I has the possibilty of learning the true story, which, personally, I find more interesting than the semi-fiction it inspired.
Publisher: Betty MacDonald

fan club


Electronic file. 2002
Updated version with many new info

, documents and photos in 2016



---
Rating: ****
---
The Kettle's Million Dollar Egg is an historical account of a trial.
Betty MacDonald is the author of The Egg and I, which turned out to be a best-seller. It was adapted to the screen. A movie was made, and proved to be very successful too. Afterwards "

Ma

and Pa Kettle" appeared in a very succ

essful series

after the name of a couple of farmers who are not very flatteringly described by Betty MacDonald. Undoubtedly it is their dirtyness and dumbness that make the spectators laugh. The series was a big success.
The problem is that a family sues Betty MacDonald for having been exposed to ridicule in her book. The Bishop family believes she had been depicted by Betty MacDonald as the Kettle family.
The plaintiffs are the first to talk. On some issues, witnesses are asked to confirm or infirm what has been said.
A few days later, Betty MacDonald can talk. She is asked to tell in what circunstances she wrote the book.
---
Comments Being the defendant is not pleasant. Being in the witness stand is not always very easy:

She said a finer man never lived than Al Bishop and described his wife as a wonderful woman.




Cautioned by Judge Wilkins just to answer questions and not to volunteer information, Mrs. Madeline Bishop, a sprightly and alert woman, turned to the judge with a broad smile: "Am I talking too much, judge?" she asked.




"We all do that sometime," the judge remarked smiling.




"But I can't tell you unless I explain," she answered pertly.




According to her Albert Bishop had tremendous working habits, not at all like Paw Kettle in the book.




He had red hair "like that juror's", pointing to a young juror with red hair. Albert Bishop worked "like a dog, night and day." Her sister wasn' t profane as was Maw Kettle. "It was not a habit of hers. She was not a profane woman. She might say 'Doggone you' to a kid or something like that."




Several pictures of the Albert Bishop family which defense attorney Crandell sought to have introduced through Mrs. Bishops identification were ruled out of evidence as having no bearing on the case since they were taken a number of years before the time allegedly covered in THE EGG AND I.




As the last of the pictures was ruled out, Mrs. Bishop drew a photograph in a small round frame from her purse. "Here's one of my sister when she was a young woman," she remarked , " but I suppose that one has no bearing either." Then she put the picture before Judge Wilkins, commenting as she did so: "She's sweet, isn't she?"
The situation is absurd. When people are attacking others or defending themselves, they feel the need to say and do stupid things, as if it were the most stupid person who would be the winner in the end. The judge knows that natural inclination, he encourages the others to talk nonsense, and then, he rules out whatever he likes. Even if the Bishops are mostly interested in getting financial subsidies rather than in restoring their dignity and honour, they are nevertheless victims in some ways, because Betty's book changed their life. They had to deal with tourists, who wished to see the ranch where Betty lived. They had to recreate it, to reinvent a myth, to charge one dollar per visit, to declare they were the Kettles or to deny that according to circunstances.
The story is about a rebellion against mighty forces which are thwarting long-established plans and desires. The Olympian Gods want to make surprises, but the poor mortals don't like them.
---
Work and life of Betty MacDonald will be honored by Wolfgang Hampel in Vita Magica.
Betty MacDonald fan club newsletter November includes the updated Betty MacDonald fan club essays ' Betty MacDonald in Hollywood' and ' Betty MacDonald and Dorita Hess '.
There is also an article about Betty MacDonald fan club letter collection.
We got very important info regarding the original 'The Egg and I' and the way Betty MacDonald described her first husband Robert Eugene Heskett and their neighbours.
Do you want to see photos of Betty MacDonald's beloved grandmother Gammy?
You can see several ones in Betty MacDonald fan club newsletter November.
Isn't this great?
By the way I totally agree. The author of an oustanding Betty MacDonald biography needs a very good sense of humor.
We will be able to offer you very witty and exciting stories because of our outstanding Betty MacDonald research and many interviews with Betty MacDonald's family and friends by Betty MacDonald fan club founder Wolfgang Hampel.
We are going to publish new Betty MacDonald fan club items including new Betty MacDonald interviews by Wolfgang Hampel.
Betty MacDonald fan club fans from 5 continents enjoy these unique very witty interviews and new ones will follow.
We
hope we'll be able to read Wolfgang Hampel's new very well researched stories about Betty MacDonald, Robert Eugene Heskett, Donald Chauncey MacDonald, Darsie Bard, Sydney Bard, Gammy, Alison Bard Burnett, Darsie Beck, Mary Bard Jensen, Clyde Reynolds Jensen, Sydney Cleveland Bard, Mary Alice Bard, Dorothea DeDe Goldsmith, Madge Baldwin, Don Woodfin, Mike Gordon, Ma and Pa Kettle, Nancy and Plum, Mrs. Piggle-Wiggle and others - very soon.
It' s such a pleasure to read them.
Let's go to magical Betty MacDonald's Vashon Island.
F

at. Pig. Dog. Slob. Disgusting animal.

These are just some of the names that Donald Trump has called women over the years. Yes, a man who's hoping to become President of the United States and presumably persuade a few women to vote for him, too.
The billionaire has been widely called out for his objectification of women - he has a tendency to criticise them for their looks - and sexist remarks.
I ask myself who can vote for a guy like this?
Betty MacDonald fan club organizer Linde Lund and Betty MacDonald fan club research team share their recent Betty MacDonald fan club research results.

Congratulations! They found the most interesting and important info for Wolfgang Hampel's oustanding Betty MacDonald biography.


Don't miss our Betty MacDonald fan club contests, please.
You can win a never published before Alison Bard Burnett interview by Betty MacDonald fan club founder Wolfgang Hampel.
Good luck!
This CD is a golden treasure because Betty MacDonald's very witty sister Alison Bard Burnett shares unique stories about Betty MacDonald, Mary Bard Jensen, Mrs. Piggle-Wiggle and Nancy and Plum.
Do you have any books by Betty MacDonald and Mary Bard Jensen with funny or interesting dedications?
If so would you be so kind to share them?
Our next Betty MacDonald fan club project is a collection of these unique dedications.
If you share your dedication from your Betty MacDonald - and Mary Bard Jensen collection you might be the winner of our new Betty MacDonald fan club items.
Thank you so much in advance for your support.


Thank you so much for sending us your favourite Betty MacDonald quote.
More info are coming soon.
Wolfgang Hampel's Betty MacDonald and Ma and Pa Kettle biography and Betty MacDonald interviews have fans in 40 countries. I'm one of their many devoted fans.
Many Betty MacDonald - and Wolfgang Hampel fans are very interested in a Wolfgang Hampel CD and DVD with his very funny poems and stories.
Wolfgang Hampel invited a very famous author for Vita Magica October and it was very successful.
Betty MacDonald Fan Club fans from all over the World are very interested in Wolfgang Hampel's interviews, stories and poems.

You'll be able to read some of Wolfgang Hampel's new satirical stories and poems in our Betty MacDonald Fan Club newsletter. It'll be available in November.

Wolfgang Hampel is journalist, author, artist and poet.

He is the winner of the first Betty MacDonald Memorial Award.

As we all know Wolfgang Hampel founded Betty MacDonald Fan Club and Betty MacDonald Society in 1983.

Betty MacDonald Fan Club got members in 40 countries.

Wolfgang Hampel visited all the places where Betty MacDonald and her family lived.

Wolfgang Hampel's new Betty MacDonald documentary of Betty MacDonald's life in Boulder, Butte, Seattle, Laurelhurst, Chimacum, Vashon Island, Carmel and Carmel Valley is really fascinating. My personal favourites are scenes of Betty's and Don's life in Carmel and Carmel Valley.

Wolfgang Hampel, author of Betty MacDonald Biography, interviewed Betty MacDonald's family and friends and many other famous artists and writers, for example Astrid Lindgren, Truman Capote, J. K. Rowling, Maurice Sendak, David Guterson, Donna Leon, Ingrid Noll, Marie Marcks, William Cumming, Walt Woodward and Betty MacDonald Fan Club Honour Members Monica Sone, Letizia Mancino, Darsie Beck and Gwen Grant.

Wolfgang Hampel is also very well known for his satirical poems and stories.

We are going to share Wolfgang Hampel's work with many fans from all over the world who adore his Betty MacDonald Biography and unique Betty MacDonald Interviews.

Wolfgang Hampel's newest literary project is Vita Magica.
Tell us the names of this mysterious couple please and you can win a very new Betty MacDonald documentary.
Betty MacDonald fan club honor member Mr. Tigerl

i
is beloved all over the World.
We are so happy that our 'Casanova' is back.
Enjoy your Sunday,
Dag & Lena


Wolfgang Hampel - LinkFang ( German )
Wolfgang Hampel - Academic ( German )
Wolfgang Hampel -
cyclopaedia.net ( German )
Wolfgang Hampel - DBpedia ( English / German )
Wolfgang Hampel - people check ( English )
Wolfgang Hampel - Memim ( English )
Vashon Island - Wikipedia ( German )
Wolfgang Hampel - Monica Sone - Wikipedia ( English )
Wolfgang Hampel - Ma and Pa Kettle - Wikipedia ( English )
Wolfgang Hampel - Ma and Pa Kettle - Wikipedia ( French )
Wolfgang Hampel - Mrs. Piggle-Wiggle - Wikipedia ( English)
Wolfgang Hampel in Florida State University
Betty MacDonald fan club founder Wolfgang Hampel
Betty MacDonald fan club interviews on CD/DVD
Betty MacDonald fan club items
Betty MacDonald fan club items - comments
Betty MacDonald fan club - The Stove and I
Betty MacDonald fan club groups
Betty MacDonald fan club organizer Linde Lund
Rita Knobel Ulrich - Islam in Germany - a very interesting ZDF ( 2nd German Television ) documentary with English subtitles
Donald Trump targets Democrat safe states in final campaign push
D

onald Trump had to be rushed off the stage in a security alert at a rally in Reno, Nevada.
Secret Service agents hauled Mr Trump to safety as panic ensued. The incident erupted while he was addressing the crowd.
Initially there were unconfirmed reports that the man was armed, although it was unclear how he could have brought a gun through the security checks.
Further investigation of mobile phone footage of the incident indicated that there was no weapon.
A white man, believed to be in his 30s or 40s, was taken away by police and security guards for questioning.
M

r Trump had spent his final Saturday before election day dashing to to four key states in three different time zones to make a closing pitch to the voters he is relying on to take the White House.
The Republican nominee began in Tampa, Florida, before racing to Wilmington in North Carolina, Reno in Nevada ahead of a night time rally in Denver, Colorado.
Mr Trump is targeting what had been regarded as safe Democratic states.
Hillary Clinton meanwhile was relying on the star power of her top supporters to bring voters to her side. Her only solo event was in Florida, where early voting data suggests she has a marginal lead. Mrs Clinton then flew Philadelphia to watch Katy Perry, the famous singer perform a concert in her honour.
The appearance with Perry was the latest attempt at using some star power to boost her campaign. On Friday night, the Democratic nominee appeared alongside singer Beyonce and her husband, rapper Jay Z, at a concert in Cleveland.
Meanwhile in Philadelphia
R

uth Sherlock has been at Hillary Clinton's star studded rally

"What are you going to do on November 8th?" Katy Perry shouted. "Vote!" the Philadelphia crowd screamed back. "And who are you going to vote for?" "Hillary Clinton!"

Hillary Clinton grinned from the sidelines. Awkward and stilted in her own speeches, the Democratic nominee watched the pop icon descend, like a sassy angel from heaven, and deliver her the millennial vote.

This was not Mrs Clinton's natural habitat. In introducing the artist Mrs Clinton tried to entertain, telling the concert audience that tonight she wanted to hear them "roar" - a play on Ms Perry's signature lyric. But the delivery was so awkward it was almost painful to watch.
S

he in a plain white pant suit, Ms Perry in a glamorous blue dress coat, with huge flapping sleeves studded with glittering jewels, the two women could not have looked they came from more different worlds on stage.
But for over a year now the singer has thrown her weight behind seeing Mrs Clinton elected to the White House.
"I've been knocking on doors," she told the crowd. "A couple of weeks ago I knocked on college dorm rooms in Las Vegas."
"The smell was interesting," she said with a grimace. "But I think we got the vote."
B

rimming with energy Ms Perry blended performing her biggest hits with rallying the crowds for Mrs Clinton.
Performing 'Part of me' she paused after the lyric "find out who is really there for me":
"Are you there for her?" she shouted. The audience responded with deafening cheers.
"It's ok to have some fun and still change the world right?" she said, bouncing on stage, having shed her coat to reveal a shimmering American flag dress below. "Shouldn't we have some fun whilst we make the world a better place?"
"Nasty women at the back make some noise!" she shouted, making a mockery of the term Donald Trump used to describe Hillary Clinton.
"Let's continue supporting our girl and in three days lets make history," she said.
"See you at the polls next Tuesday!"
Betty MacDonald fan club honor member, author and artist Letizia Mancino sent this connecting piece to " The Second Paradise".

DEFIANT AS A COCK

Copyright 2011/2016 by Letizia Mancino
translated by Mary Holmes

All rights reserved

That was how my friend Hilde Domin was, dear Betty! You would have liked her so much. She had also been in America. At that time you were a famous author but she was still unknown.

-Did she love cats like you do?

-Yes Betty, she sure did!! Otherwise how do you think she could have been a friend of mine?

-Oh Letizia, don't boast! Hilde was famous!

-It's all the same to me, Betty, whether a person is famous or not but that person must love animals

-Why was she as defiant as a cock?

-Well Betty, she was simply so!

-Like a pregnant woman in my "Egg and I"?

-No not so! Betty, Hilde was a whole farm!

- A farm, how was that?

- No Betty, Hilde was more! Almost a zoo! Even more. She was all the animals in the world!

-You loved her very much.

-As I love all animals.

You Betty, if I had known you, I would have loved you exactly so because you loved animals.

-But as defiant as a cock from my Bob-farm!

-Yes and no! (Hilde really loved this double form of answer). Listen Betty , I'll tell you a story about how Hilde was. You would certainly have loved her.
I'll call my story "The Second Paradise".

THE SECOND PARADISE

Copyright 2011/2016 by Letizia Mancino
translated by Mary Holmes

All rights reserved


The Lord God, one day, met Adam in Paradise and saw him lying under a palm.

And God spoke to him: Adam, my son, are you happy, are you content with Paradise ?

Adam answered: Oh Lord, it is wonderful!

And God said: But I will create a second Paradise and give you a wife.

Adam answered: Oh Lord, that is wonderful!

And God said: I will create the wife according to your wishes.

And Adam stood under the palm and thought hard.

And God said: Adam, are you ready?

Adam answered: My wife should be as lively as a bird but she should not fly. She should swim like a goldfish but not be a fish….. She should be as playful as a cat but not catch mice….. She should be as busy as an ant but not so small.

And God said: So shall she be: Like a bird, a goldfish, a cat, an ant…

Adam answered: Oh Lord, that is wonderful, but she should be as faithful as a dog.

And God asked: Adam, have you finished?

Oh Lord, cried Adam. She should also be as delightful and gentle as a lamb and as defiant as a cock!

….She should be as curious as a monkey and as pampered as a lapdog.

And God said: So shall she be.

And Adam said: My wife should be as courageous as a lion and as headstrong as a goat…

And God said: So, like a bird, a goldfish, a cat, an ant, a dog, a lamb, a cock, a monkey, a lapdog, a lion, a goat… and slowly and surely he wished to begin creating…

But Adam stretched himself under the palm and called:

Lord, Lord, she should be as adaptable as a chameleon but not creep on four feet.

She should have sparkling eyes like, like… real diamonds. She should be as fiery as a volcano

But … she should have crystal-clear thoughts like a mountain spring.

God, the Almighty, was speechless…

And Adam spoke: Also she should be as quick as lightening…

And God said: Man, have you finished????

No, said Adam! She should be as strong as a horse, as long living as an elephant but as light as a butterfly!

God found Adam's thoughts were good and said: So, bird, goldfish, cat, ant, dog, lamb, cock, monkey, lapdog, lion, goat, chameleon, genuine diamonds, volcano, mountain spring, lightening, horse, elephant…. butterfly…

God wished at last to begin creating her…

Lord, called Adam… she should be as stable as steel, but as sweet as three graceful women in one…

And God asked: Should she also be a poet?

Yes, called Adam from under the palm…

And God said: Adam have you finished?

Lord, I wish that, in the second Paradise I shall be one and doubled:

So God according to Adams last words created:

HILDE PALM DOMIN